The Arc is dead, but beware of the PaRP
The Oxford-Cambridge Arc is dead but, like any good horror-movie monster, it refuses to stay dead.
Although the Arc was finally killed off last year, for very good reasons, it has recently re-emerged as the "Oxford to Cambridge Pan-Regional Partnership". It's complete with the same old slew of secrecy, millions of pounds of public money to waste on consultants, unsustainable transport schemes, "pro-growth councils" and pious platitudes about Silicon Valley.
But if it's not called the Arc any more, what should we call it? Let's call it the "OxCamPaRP".
Behind it all, as ever, lurks a development industry lusting over huge areas of high-quality farmland close to London, Cambridge and Oxford, ripe for profitable destruction.
Behind it too is secretary of state Michael Gove who, when asked, announced the demise of the Arc last year by running his finger across his throat. But in January he agreed a low-key launch for the PaRP and wrote to several of those involved telling them they could waste another £2.5million of public money on this destructive scheme.
So where are we now? Do we even know what area is threatened by the PaRP?
After years of shape-shifting, the Arc eventually settled down to being five counties + Peterborough, although both Buckinghamshire and South Oxfordshire eventually washed their hands of it.
It's difficult to determine the PaRP's boundaries, though leaders of Cambridge City (representing the Cambridgeshire & Peterborough Combined Authority), Central Bedfordshire, Cherwell, Milton Keynes and Oxford City sat on the original Shadow Board.
Whether more councils have quit since the local elections is unclear. But a Son-of-Arc without Beds, Bucks, Northants and parts of Oxon would look a bit, er, ridiculous.
Also represented on the Shadow Board is one of the Arc's main cheerleaders, the Arc Universities Group. Then there's "England's Economic Heartland" which, despite its name, is actually a sub-national transport body representing the original Arc + Herts and Swindon – much of England's agricultural heartland in fact. And not forgetting the local Local Enterprise Partnerships, due to be abolished in the not-too-distant future.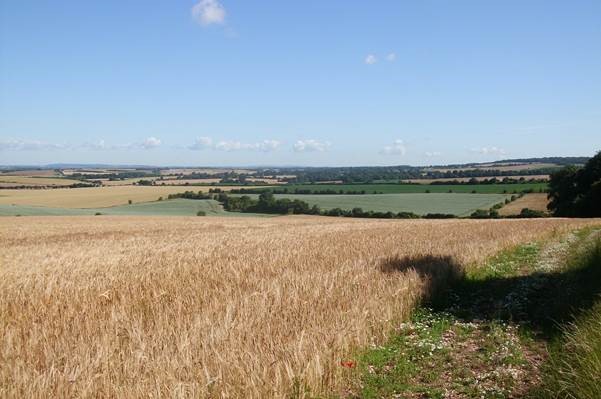 But, with some public dosh, a handful of "pro-growth councils", the desperate appetites of house builders and pro-growth universities behind it, it goes on its merry way.
This month the PaRP appointed a managing director, Richard Hutchins. He sounds keen anyway.
"I'm really excited to be joining the Partnership at this time as we press ahead to support local and pan-regional partners to deliver environmentally sustainable economic and social priorities," he said.
If he really is keen on environmentally sustainable economic and social priorities, he's in for a pretty miserable time. Arc fans used to come up with similar stuff before pursuing their plans for motorways, car-dependent sprawl, HGV-dependent distribution sheds beside trunk roads and foreign investment from countries like, er, China.
That's a tap that Cambridge shows no sign of wanting to turn off. But the Arc Universities Group are at pains to point out it isn't their only target. In April they told us India may help the region become "the UK's tech superpower".
Whatever the PaRP's eventual shape, it's still clear it's a hopelessly unsuitable place for accelerated economic growth. Look at its shortcomings:-
It contains much of the country's most productive agricultural and horticultural land
It's acutely short of housing
Most of it is acutely short of water
It's thoroughly lacking in public transport (apart from trains to London)
There's very little brownfield land
Much of it is so low-lying it's a major flood risk and it'll be swamped by sea-level rise
It's short of education and healthcare infrastructure
"Aha!" its advocates shout. "So is much of the country."
Well no, not necessarily. Smart Growth UK did three reports on The Overheated Arc in 2019-21. These set out many of its shortcomings; indeed, often the Arc was one of the worst places in the country and its claimed advantages – like universal high productivity – didn't stand up to analysis.
But I'd like to remind you all of the second report.
This asked, if an "arc" (i.e. essentially an area of accelerated growth based around university research) was a useful concept, were there areas where it could be applied with more economic and social benefit and much less environmental impact?
Without too much difficulty we came up with five areas in England where this was very obviously the case. We didn't say these were the only such candidates (or even the best); there were plenty of others.
What it did show was that the Oxford-Cambridge Arc seemed to be driven by senior politicians' and civil servants' nostalgia for their university days and house builders' lust for greenfield land near London. Sustainable development didn't really figure, despite a lot of greenwash.
In truth, the "Arc universities" has always revolved around the Universities of Cambridge and Oxford, with Cranfield and Brookes hanging on their shirt-tails. It relies on foreign investors' belief that the only UK place worth locating technological investment has CB or OX in its postcode or, at the very least, Cambs or Oxon in its postal address.
This downgrades every other university in the country and seriously damages our inward investment case, already reeling from brexit.
To attempt to revive the Arc just by renaming it the PaRP is thoroughly bad government. It's a threat to our environment, our food supply and our country's economic performance.
Quite a triple whammy.
Jon Reeds