HS2: route and branches review needed
When people argue something is so good it's pretty well perfect, and then it gets radically altered and they still say it's perfect, then it's time for some big questions.
With the threat of catastrophic climate change getting ever nearer, the need to address the UK's most greenhouse gas (GHG) intensive sector – transport – grows ever more urgent. Yet instead of being able to tackle its really unsustainable aspects, we seem to be mired in debate about the country's largest transport project, HS2.
It's undergone some radical change in the past few months, with the loss of its Phase 2b(east) north of East Midlands Parkway. Ministers have also made clear its final section, to Manchester, is now most unlikely to include the Golborne Spur, designed to by-pass a particularly congested stretch of the West Coast Main Line.
Its corps of diehard enthusiasts on Twitter, however, continue to insist on its perfection. Yet one body you might expect to agree with them has actually raised one of its basic failings.
The High Speed Rail Group (HSRG) represents companies that supply high-speed railways, so you might expect it to be strongly in favour of HS2, as indeed it is. But not uncritically.
One of HS2's major claims is that it would virtually eliminate internal flights in the UK, thus reducing the nation's GHG emissions a bit.
But a new report from HSRG – How to Win Air Travellers to Rail – highlights a long-standing weakness of HS2 – the gap between its proposed terminus at Euston and HS1's terminus at St Pancras. The prospect of passengers struggling for three-quarters of a mile in the rain between the two high-speed lines with heavy luggage or small children – the "traipse along Euston Road" as the report calls it – is absurd.
HS2-is-perfect enthusiasts will tell you this doesn't matter. Brexit, they'll tell you, has seriously cut back travel to Europe and the number of people flying to Paris, Brussels and Amsterdam isn't that high. (One reason for this, of course, is that Eurostar has captured so much of this market).
But to the HS2 enthusiasts, all that matters is capturing domestic flyers, or at least the 57% of them who fly London-Scotland. Critics have pointed out that this would only marginally reduce GHG emissions from those using UK airports as it doesn't cover international flying. And HS2 is very good at facilitating international flying, with its stations at Birmingham and Manchester airports and improved links to Heathrow and East Midlands.
The HSRG report answers some of that with extensive coverage of ways in which HS1 could link to a far wider range of destinations right across western Europe.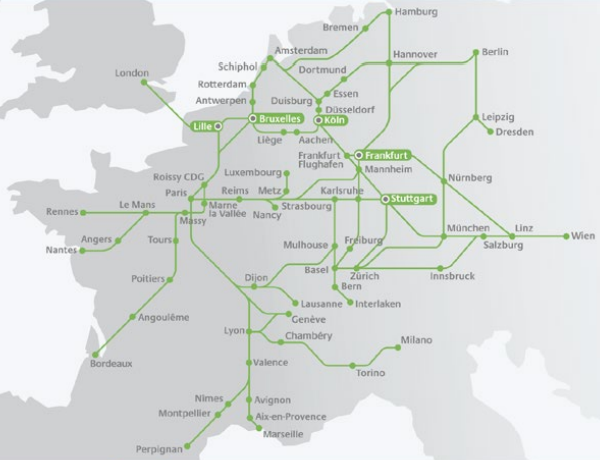 "There is huge scope for longer distance rail travel from the UK and for new entrants to compete strongly on shorter routes too," it says.
The report also says HS2 could extend European travel benefits across Europe and it includes analysis of how passengers from Birmingham and Manchester to Europe could benefit – if it connected or there was a high-capacity rail link allowing HS1-HS2 through running.
But the current HS2 terminus at Euston, expensive, disruptive and ill-connected, stands as a symbol of the ill-connectedness of HS2 with our existing network. But then so could the ill-sited terminus at Curzon Street in Birmingham, or the plan to serve Derby and Nottingham with a station at Toton, miles from the centre of both.
Happily the latter at least is now history, though the Government didn't quite have the courage to dump it altogether, so it's still safeguarded and it's kicking the eastern leg issue into the long-grass with an eye-wateringly expensive study of alternatives..
Many opponents of HS2 dream of its total abandonment. That's still possible; Boris Johnson is said to be its last enthusiast in government and the Treasury always loves to axe spending on anything that moves on rails.
Indeed, a genuinely independent review would have made sense before billions were spent on it and a huge swathe of land clearance created north from London. But much of that has now been done so we need to work out how best to use it – what should go ahead as planned, what needs changing and what should be dropped.
What's plainly needed is a wide-ranging and comprehensive review of the whole project by people who've never been aboard this expensive gravy train. The hysterical defence mounted by supporters and those with a vested interest shows they couldn't be trusted to deliver a review.
Such a review would need to have the power (though not the obligation) to recommend some very controversial things:-
Abandoning parts of the current HS2 proposals altogether
Terminating contracts already let despite the inevitable compensation
Investing money in other parts of the rail network in need of very urgent capacity improvements
Using existing HS2 proposed routes for a wider range of trains, possibly including freight.
HS2 enthusiasts will blench at this and its band of Twitter trolls will shriek and gibber.
But ask yourselves this – if you had £100 billion for rail investment in Britain, given its lack of rail electrification, urban transit in cities, freight capacity and much else, would you really invest all 100% of it in the current version of HS2 and leave the rest to go hang?
I've been criticised for being "anti-high-speed-rail". I'm not, but I think there are other rail investment priorities and any high-speed line needs to be well designed and connected.
It's no good saying those other things should be financed too. They're not. The IRP decision on Phase 2b(East) showed these things are alternatives. So we need a root-and-branch review of HS2, including its route and branches. And we need it now.
Jon Reeds